Online sales have ended, but we encourage you to purchase a ticket at the door! Thank you for your support of HRC!
HRC Austin: Equality Disco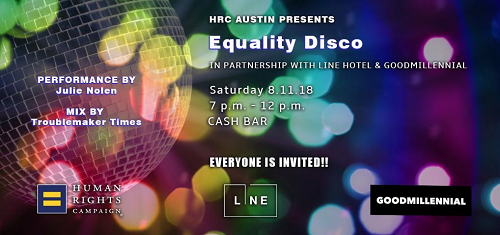 August 11, 2018
7:00 p.m. - 12:00 a.m.
LINE Hotel
111 E Cesar Chaves St
Austin, TX 78701

We are half way through the year and it's been a busy one! The second half will be even busier! So let's take some time to relax, breathe and celebrate Pride! It has been a long and hard road to get here, let's enjoy it!
Join HRC as we party the night away like fabulous dancing queens!
Are you interested in walking in the Parade with HRC ATX??
Need a place to stay? The LINE Hotel is offering a special room rate for HRC Supporters!