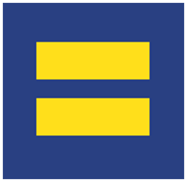 Demand Equality for ALL!
Use Your Voice. Tell Your Elected Officials Your Priorities.
Take Action to Contact Congress NOW
Right now, Congress is home during recess, making it the perfect opportunity to remind them of all the LGBTQ people and allies who they represent — and the issues we care about.

Please record your video right now — then share it on social media to promote your beliefs far and wide. Tell your members of Congress that you are a pro-equality voter who supports the Equality Act and opposes the repeal of the ACA.

We must unite and resist like never before. The more people who speak up, the more pressure we can exert. Every message makes a difference — so join in today!

A few talking points for your message:

• State where you are from.
• Explain how you fit into the fight for LGBTQ equality.
• Urge them to OPPOSE a repeal of Affordable Care Act (ACA) and SUPPORT the Equality Act.
• Remind them that you are one of millions of Americans who believe in LGBTQ equality.



Check out some of the HRC members who are contacting their legislators